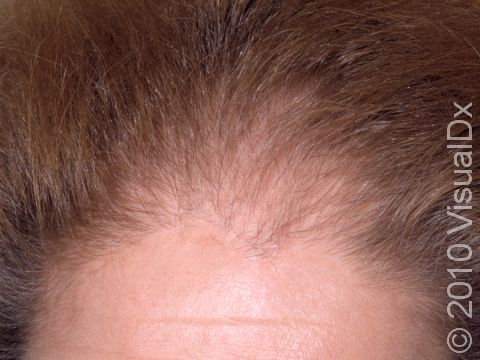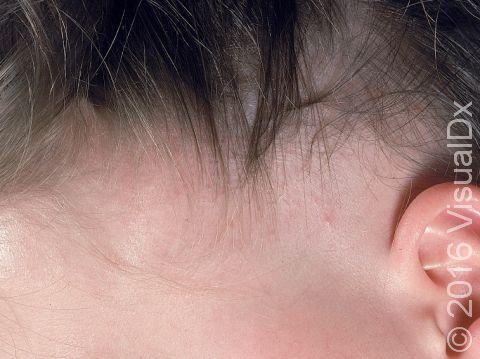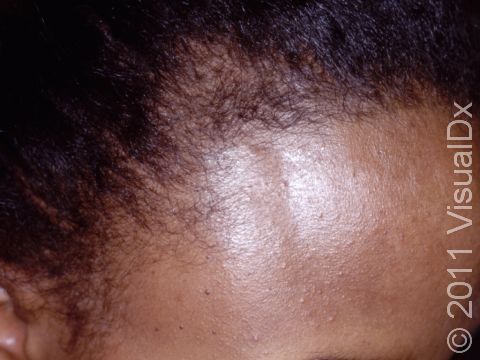 Images of Hair Loss, Female Pattern Baldness (Female Pattern Alopecia) (4)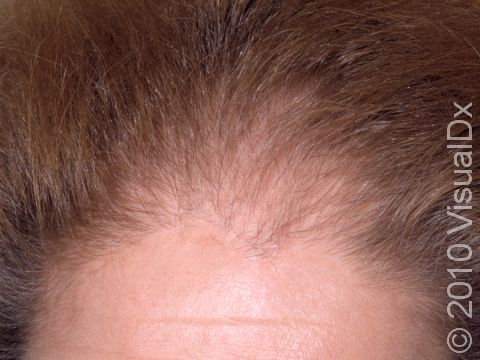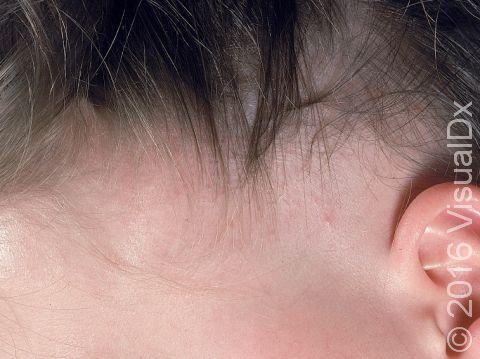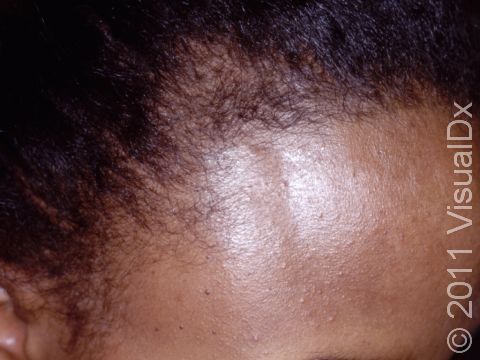 Hair Loss, Female Pattern Baldness (Female Pattern Alopecia)
Female pattern baldness (alopecia), or androgenetic alopecia, is a form of hair loss that affects women. It is most commonly noticed after menopause, although it may begin earlier.
Female pattern alopecia is due to a combination of a family history of balding (from either parent's side of the family), aging, and hormones. It is not due to a vitamin deficiency, poor circulation, dandruff, or wearing hats. There is progressive shrinking of the hair follicles until they produce only a fine, wispy hair or stop producing hair entirely.
Who's At Risk?
It is estimated that up to half of women who are postmenopausal are affected by hair loss to some degree, but female pattern alopecia can happen any time after puberty. Onset of hair loss is most common in women at ages 20-30 and 40-50 years, and hair loss tends to worsen with age. The incidence of female pattern alopecia is highest in White women, followed by Asian and Black women.
Signs & Symptoms
The pattern of hair loss is different in women than men; typically, there is widespread thinning of the hair of the crown and frontal scalp. Total hair loss in women is very rare.
Self-Care Guidelines
The hair loss associated with female pattern alopecia, although permanent, requires no treatment if you are comfortable with your appearance.
Hair loss can have a significant psychologic impact. Creative hair styling, hair weaving, hairpieces, or wigs can help to minimize or completely hide the effects of hair loss.
Those with any sort of hair loss should be careful to protect their scalp from sunburn with sunscreen, a hat, or other covering.
The only medication approved to treat female pattern alopecia in the United States is topical minoxidil (eg, Rogaine); the 2% preparation recommended for women is available without a prescription. This may help the hair grow in about a quarter of the women using it, and it will stop or slow hair loss in most women. The medication is expensive; however, and the hair loss will rapidly progress when minoxidil use is discontinued.
Low-level laser light therapy (LLLT) has shown promise for female pattern alopecia. Laser devices are available without a prescription (eg, Revian Red Hair Growth System); note that these devices are expensive and some are more effective than others.
There is no known prevention for hair loss. Shampooing and other hair products have no adverse effects, so there is no need to avoid normal grooming practices. However, it is best to avoid harsh products or practices that may damage the hair shaft and cause hair breakage.
Treatments
The diagnosis of female pattern alopecia is usually straightforward for the medical professional because of the typical pattern of hair loss. However, certain blood tests will help to rule out other causes of hair loss, such as low blood count (anemia) or a thyroid disorder. A skin biopsy may be recommended.
Current therapies for female pattern alopecia are aimed at stimulating regrowth of the hair and might include topical minoxidil (the 5% preparation may be also recommended by your medical professional) and low-level laser light therapy (LLLT). Oral minoxidil, spironolactone, cyproterone acetate (not available in the United States), and finasteride may also be prescribed. These medications should not be used in anyone who could potentially become pregnant.
Specialized centers may offer platelet-rich plasma scalp injections to stimulate hair growth.
Surgical therapy to improve the appearance of alopecia includes scalp reduction, flaps, and hair transplants (micrografting). Note that not everyone is considered a good candidate for these procedures.
Visit Urgency
Although female pattern alopecia is not a medical disorder and it does not require medical care, see a medical professional if you would like to find out more about cosmetic restorative therapy.
If you are newly experiencing hair loss (especially if there is redness, itching, or skin changes associated with the hair loss), seek medical advice, as there are sometimes other causes for hair loss or other issues that can coincide with hair loss that should be treated.
Some individuals with female pattern alopecia have psychological symptoms, such as feelings of helplessness, preoccupation with hair loss and aging, and loss of self-esteem. If you have these sorts of feelings, seek medical care.
References
Bolognia J, Schaffer JV, Cerroni L. Dermatology. 4th ed. Philadelphia, PA: Elsevier; 2018.
James WD, Elston D, Treat JR, Rosenbach MA. Andrew's Diseases of the Skin. 13th ed. Philadelphia, PA: Elsevier; 2019.
Kang S, Amagai M, Bruckner AL, et al. Fitzpatrick's Dermatology. 9th ed. New York, NY: McGraw-Hill Education; 2019.
Last modified on May 24th, 2023 at 10:50 am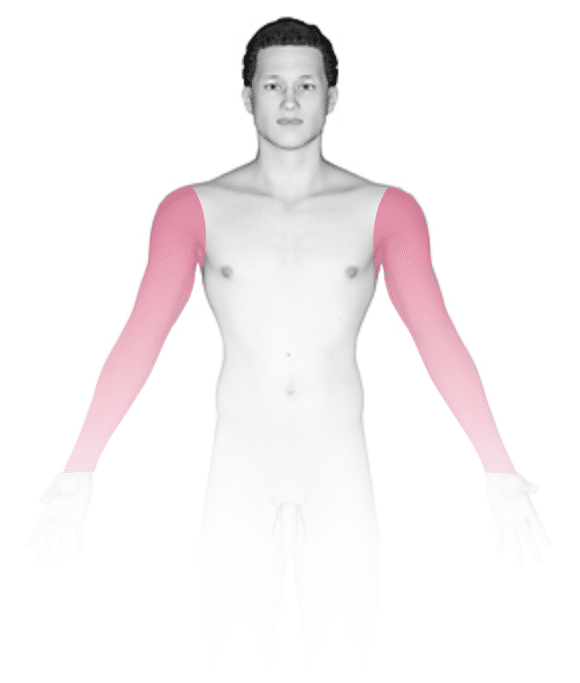 Not sure what to look for?
Try our new Rash and Skin Condition Finder