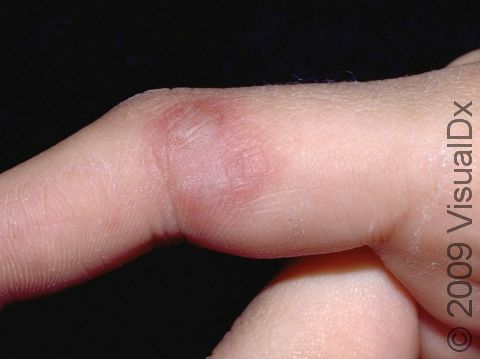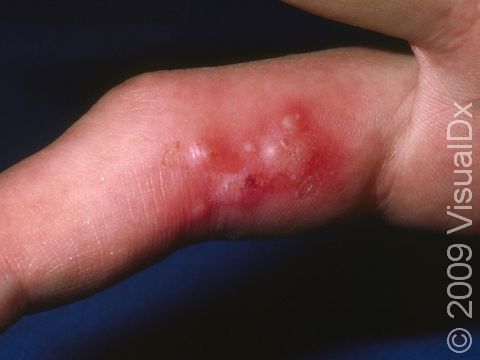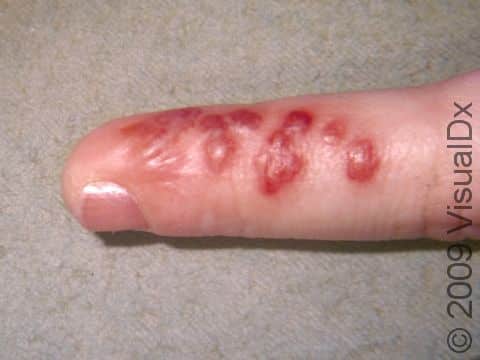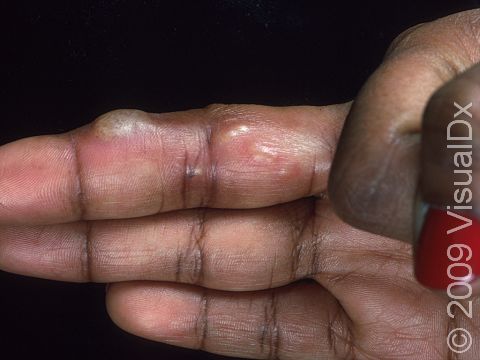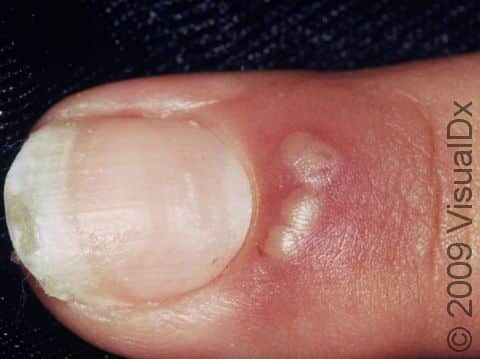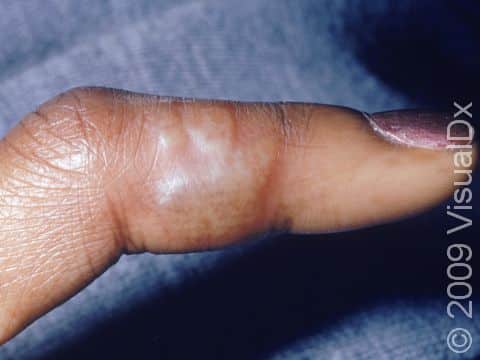 Images of Herpetic Whitlow (6)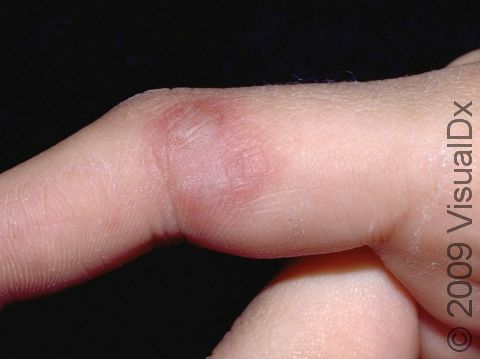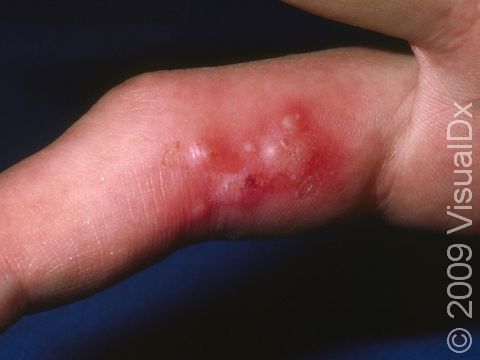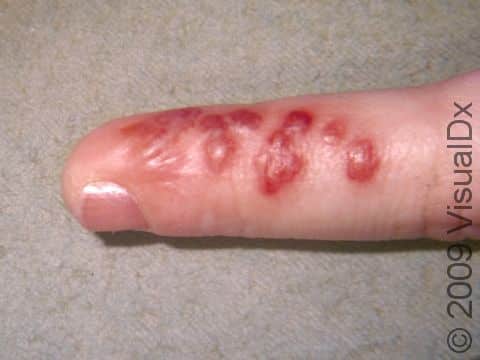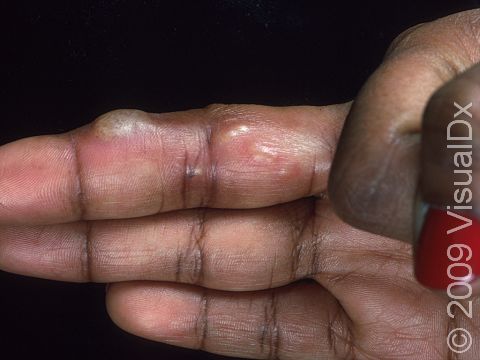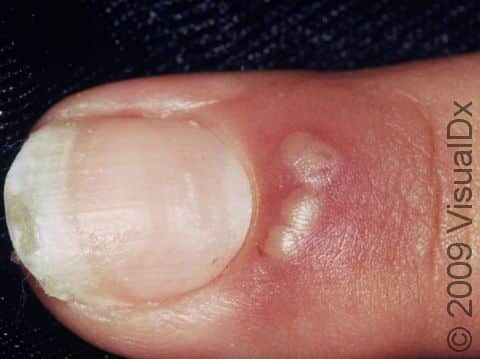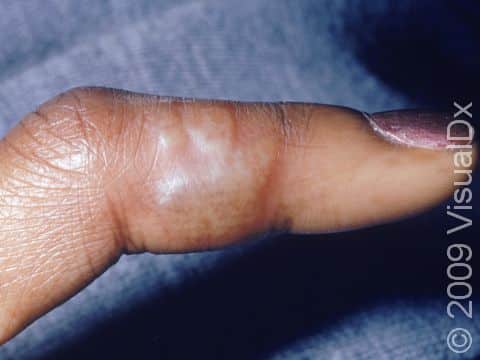 Herpetic Whitlow
Herpetic whitlow—also called digital herpes simplex, finger herpes, or hand herpes—is a painful viral infection occurring on the fingers or around the fingernails. Herpetic whitlow is caused by infection with the herpes simplex virus (HSV).
Infections with HSV are very contagious and are easily spread by direct contact with infected skin lesions. HSV infection usually appears as small blisters or sores around the mouth, nose, genitals, and buttocks, though infections can develop almost anywhere on the skin. Furthermore, these tender sores may recur periodically in the same sites.
There are 2 types of HSV: herpes simplex virus type 1 (HSV-1) and herpes simplex virus type 2 (HSV-2). HSV-1 infections usually occur around the mouth, lips, nose, or face, while HSV-2 infections usually involve the genitals or buttocks. However, HSV-1 can sometimes cause infections in the genitals or buttocks, while HSV-2 can occasionally cause infections around the mouth, lips, nose, or face.
Both types of HSV produce 2 kinds of infections: primary and recurrent. Because it is so contagious, the herpes simplex virus causes a primary infection in most people who are exposed to the virus. However, only about 20% of people who have a primary infection with the herpes simplex virus actually develop visible blisters or sores. Appearing 2–20 days after a person's first exposure to HSV, the sores of a primary infection last about 1–3 weeks. These sores heal completely, rarely leaving a scar. Nevertheless, the virus remains in the body, hibernating in nerve cells.
Certain triggers can cause the hibernating (latent) virus to wake up, become active, and travel back to the skin. These recurrent herpes simplex virus infections may develop frequently (every few weeks), or they may never develop. Recurrent infections tend to be milder than primary infections and generally occur in the same location as the primary infection.
People develop herpetic whitlow when they come into contact with areas already infected with HSV, either on their own bodies or on someone else's body. Usually, there is a break in the skin, especially a torn cuticle at the base of the fingernail, which allows the virus to enter the finger tissue and establish an infection. HSV-1 causes approximately 60% of herpetic whitlow infections, while HSV-2 causes the remaining 40%.
Who's At Risk?
Herpetic whitlow can affect people of all ages, of all races, and of both sexes. However, it is more common in children and in dental and medical workers. Children often contract herpetic whitlow as a result of thumb- or finger-sucking when they have a herpes infection of the lips or mouth. Dental and medical workers may contract herpetic whitlow by touching the contagious lesions of a patient with herpes simplex virus infection. In these groups of people—children and health care workers—herpetic whitlow is most commonly caused by HSV-1. In everyone else, herpetic whitlow is usually caused by infection with HSV-2.
Signs & Symptoms
The most common locations for herpetic whitlow include:
Thumb
Index finger
Other fingers
Approximately 2–20 days after initial exposure to the herpes simplex virus, the infected area develops burning, tingling, and pain. Over the next week or 2, the finger becomes red and swollen. Small (1–3 mm) fluid-filled blisters develop, often clustered together on a bright red base. The blisters usually rupture and scab over, leading to complete healing after an additional 2 weeks.
Other symptoms occasionally associated with the primary infection of herpetic whitlow include:
Fever
Red streaks radiating from the finger (lymphangitis)
Swollen lymph nodes in the elbow or underarm area
If a person contracts herpetic whitlow from himself or herself (autoinoculation), then he or she is likely to have a primary herpes simplex virus infection of the mouth area or of the genital area.
Repeat (recurrent) herpes simplex virus infections are often milder than the primary infection, though they look alike. A recurrent infection typically lasts 7–10 days. Recurrent herpetic whitlow is rare.
However, people with recurrent HSV infections may report that the skin lesions are preceded by sensations of burning, itching, or tingling (prodrome). About 24 hours after the prodrome symptoms begin, the actual lesions appear as one or more small blisters, which eventually open up and become scabbed over.
Triggers of recurrent HSV infections include:
Fever or illness
Sun exposure
Hormonal changes, such as those due to menstruation or pregnancy
Stress
Trauma
Surgery
Self-Care Guidelines
Acetaminophen or ibuprofen may help reduce fever and pain caused by the herpes simplex virus sores. Applying cool compresses or ice packs may also relieve some of the swelling and discomfort.
Because herpes simplex virus infections are very contagious, it is important to take the following steps to prevent spread (transmission) of the virus during the prodrome phase (burning, tingling, or itching) and active phase (presence of blisters or sores) of herpetic whitlow:
Avoid sharing towels and other personal care items
Cover the affected finger with a bandage
Wear gloves if you are a health care provider
Don't pop any blisters—it may make the condition worse
Unfortunately, the virus can still be transmitted even when someone does not have active lesions. However, this is very unusual for patients with herpetic whitlow.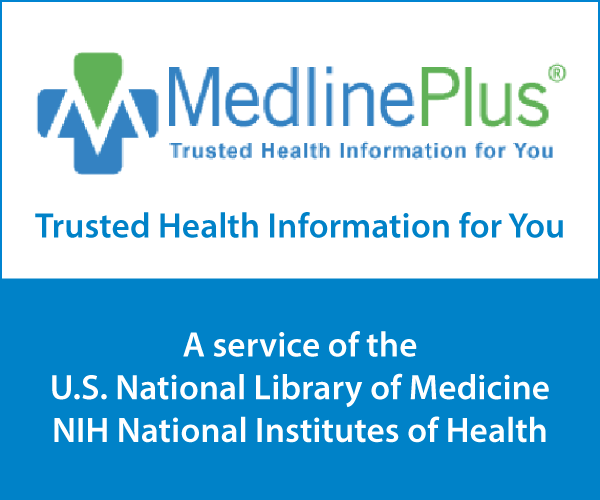 Treatments
Most herpes simplex virus infections are easy for physicians to diagnose. On occasion, however, a swab from the infected skin may be sent to the laboratory for viral culture, which takes a few days to grow. Blood tests may also be performed.
Untreated HSV infections will go away on their own, but medications can reduce the symptoms and shorten the duration of outbreaks. There is no cure for herpes simplex virus infection.
Although herpetic whitlow symptoms will eventually go away on their own, your physician may prescribe antiviral medications in order to help relieve symptoms and to prevent spread of the infection to other people:
Acyclovir pills
Valacyclovir pills
Famciclovir pills
Topical acyclovir ointment
These medications are usually taken for 7–14 days.
More severe herpetic whitlow may require oral antibiotic pills if the area(s) are also infected with bacteria.
Although it is rare, recurrent herpetic whitlow can be treated with the same oral antiviral medications:
Acyclovir pills
Valacyclovir pills
Famciclovir pills
Topical acyclovir ointment
People who experience early signs (prodromes) before recurrent infections may benefit from episodic treatment, by starting to take medication after the onset of tingling and burning but before the appearance of blisters and sores.
Very rarely, individuals may have recurrent herpetic whitlow outbreaks that are frequent enough or severe enough to justify suppressive therapy, in which medications are taken every day in order to decrease the frequency and severity of attacks.
Visit Urgency
If you develop a tender, painful sore on the finger, see a physician, especially if it is not going away or if it seems to be getting worse. You should definitely seek medical attention if you have a finger sore as well as typical symptoms of oral or genital herpes.
Trusted Links
References
Bolognia, Jean L., ed. Dermatology, pp.1237-1238. New York: Mosby, 2003.
Freedberg, Irwin M., ed. Fitzpatrick's Dermatology in General Medicine. 6th ed, pp.1317, 2063, 2068. New York: McGraw-Hill, 2003.